Debut album
Out June 3rd 2019
A.J Moore & Nick Rundall are a new acoustic duo who defy easy categorisation. Blending exquisite dual guitar arrangements with original songwriting they draw inspiration from many genres as they attempt to expand what a vocal acoustic guitar duo can be.
With A.J's background as a classical, folk guitarist/singer and Nick from the rock and jazz guitar world, both bring forth differing composing approaches which when combined create something quite unexpected and beautiful.
The blueprint for the duo's sound started with their arrangement of A.J's song 'Beautiful Eyes'. This collaboration seemed to stick as being the definitive version of the song. It epitomized many of the qualities the two musicians aspired to create, a solo voice accompanied by intricate guitar arrangements that would be more associated with classical/jazz recordings than mainstream pop.
However both found themselves working repeatedly on solo and session projects so it wasn't until 2017 that the duo finally had the chance to come together and write what would become their self titled debut album.

The album was recorded and mixed by Nick over a one year period in a self built recording space on the 8th floor of an old police building over looking the River Thames. This gave the duo the artistic freedom to create the album they wanted.
DEBUT ALBUM
by
A.J Moore | Nick Rundall
The self titled debut album is comprised of eleven original songs plus two instrumentals. The instrumentals split the songs into three sections, the first based in the classical folk genre, the second has a Spanish flavour and the third leans more towards a pop sound. All however keep their arrangements firmly set within the duos intricate guitar writing style.
The musical score and lyrics will soon be available as a downloadable book via the upcoming merchandise store.
MEDIA
Stripped Back To Beautiful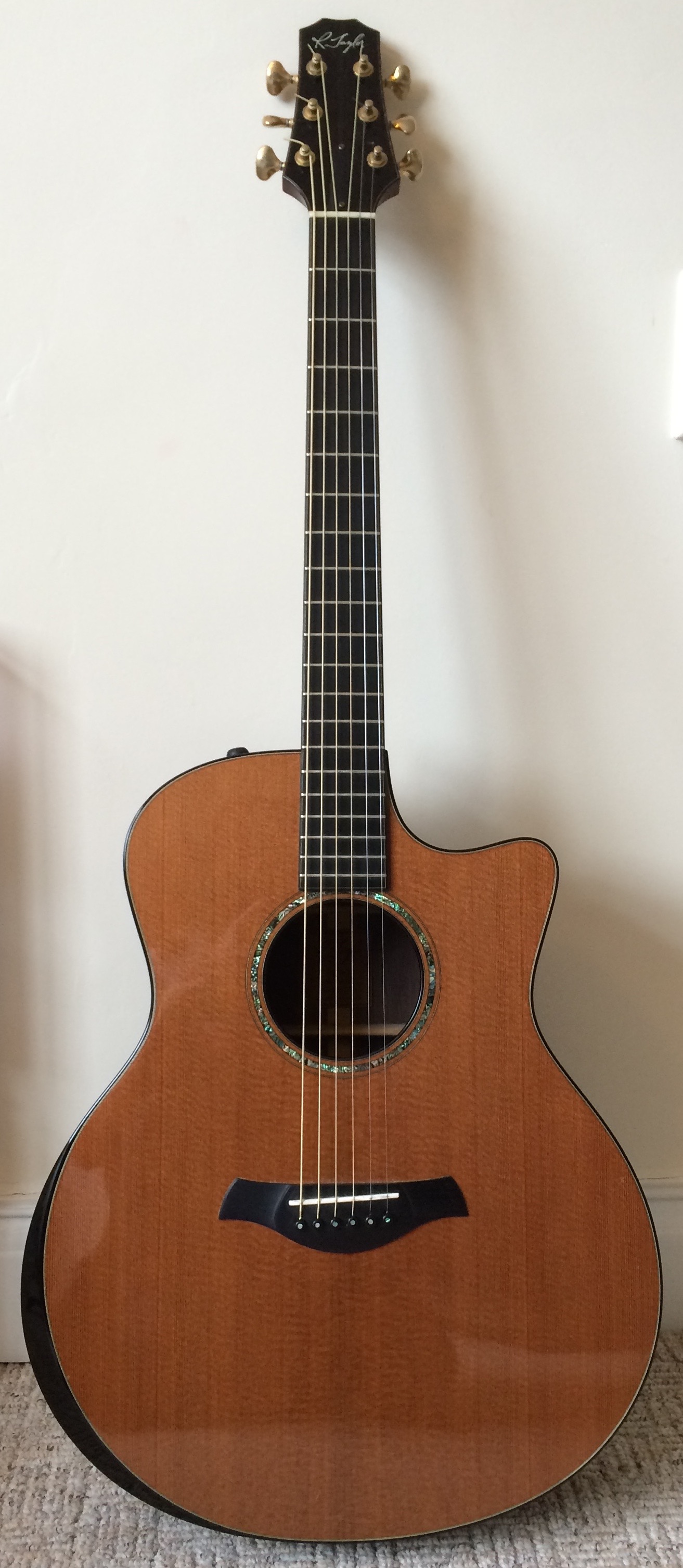 A.J has a R. Taylor Style 1 (2007) with redwood top, indian rosewood back and sides and a venetian cutaway. The Style One is the same size as the Taylor Grand Symphony, but with several significant structural differences. It has a 16 inch lower bought and is built with a modified X brace, 65' radius to the top and a 25 1/2" scale length. It is fitted with the standard Taylor Expression System pickup which was fitted after purchase.
The headstock is fitted with a Taylor bone nut, brushed gold Gotoh 510 tuners and black ebony look buttons which lower weight. There is a wave compensated bone saddle, plus ebony pins with abalone dots at the bridge.
Unlike standard Taylor's the R.Taylor has solid kerfing which results in extremely rigid sides allowing the top to be made thinner and braced lighter. Done by hand the result is more volume and better tone.
R.Taylor was a completely separate company from Taylor guitars. Their guitars took about three times as long to make due to extensive individual voicing and handwork.Unfortunately they turned out to be in competition with Taylor's Build To Order and custom guitar programs and they ceased production at the end of 2011. R.Taylor only made about 200 guitars a year for six years. This is in contrast to the two Taylor factories which turn out about 400 guitars per day.
Nick's main guitar is a Matsuda M1. Made by one of the finest and well respected luthiers in the world, Michihiro Matsuda. This is Michi's 66th instrument, built in 2009. It features an Italian spruce top and Brazilian rosewood back and sides. This guitar is an utter dream to play and has a tone of truly galactic proportions. They will need to allow space inside Nick's coffin for him to be buried with this guitar.
Nick's main guitar at the time of recording the album was a 2005 Taylor 324ce L10 (2005). This is a fall limited edition model in Grand Auditorium body shape with solid Koa front, back and sides with mahogany neck. Nick swapped the original sealed Gotoh tuners for Waverly's which are much lighter and improve the balance of the guitar, as the body is very light. They also look great.
Over the last decade the guitar has matured beautifully and both Nick and A.J agree that this is one of the finest Taylor's either has played, despite being a comparatively low on bling 3 series. With a clear and defined tone across the entire scale length it is especially impressive within a band environment.
It is also fitted with Taylor's Expression System pickup, however Nick likes to keep the batteries out unless at a plugged in gig, as he finds the the extra weight effects the response of such a lightweight guitar.
Right at the end of the recording period Nick's dad very generously gave him a Collings 0002H (2012). This is a truly sublime hand made instrument that has all the tone Collings guitars are now revered for. In essence it is almost like playing an old classical guitar and the connection you feel with the music when playing this instrument is extreme. Significant temptation was overcame to re-record the instrumental tracks with it.
Like the standard classical it is 12 frets to the body giving it amazing depth and sustain. This is complimented by a beautiful rosewood back and sides and sitka spruce top.
In the end it only made it onto 'Right By Me' due to it's late arrival on the scene but it will surely be heard on all future recordings. The guitar was recently purchased by A.J.
For 'White Wedding Blue' the duo switched to nylon stringed guitars.
A.J used a custom made Peter Barton classical. Peter built the guitar back in 2000 while A.J was still studying at Leeds College of Music. The guitar has an exceptional tone with Brazilian Rosewood back and sides, a beautiful Alpine spruce top. Peter has developed a lightweight but strong fan strutting which gives the guitar a bright treble with a warm bass and a great depth of colour and even tone.
He creates his own rosettes and purflings using ebony, maple, satinwood and mahogany veneers. A traditional V jointed head is created for the preferred lower angle it gives to the head. This requires a high level of craftsmanship to perfect.
The head stock is fitted with David Rodgers machine heads.
Nick recorded 'White Wedding Blue' with his flamenco Raimundo 610e. This is a hand made Spanish electro cutaway with cedar neck, ebony fingerboard, mahogany back and sides and spruce top.